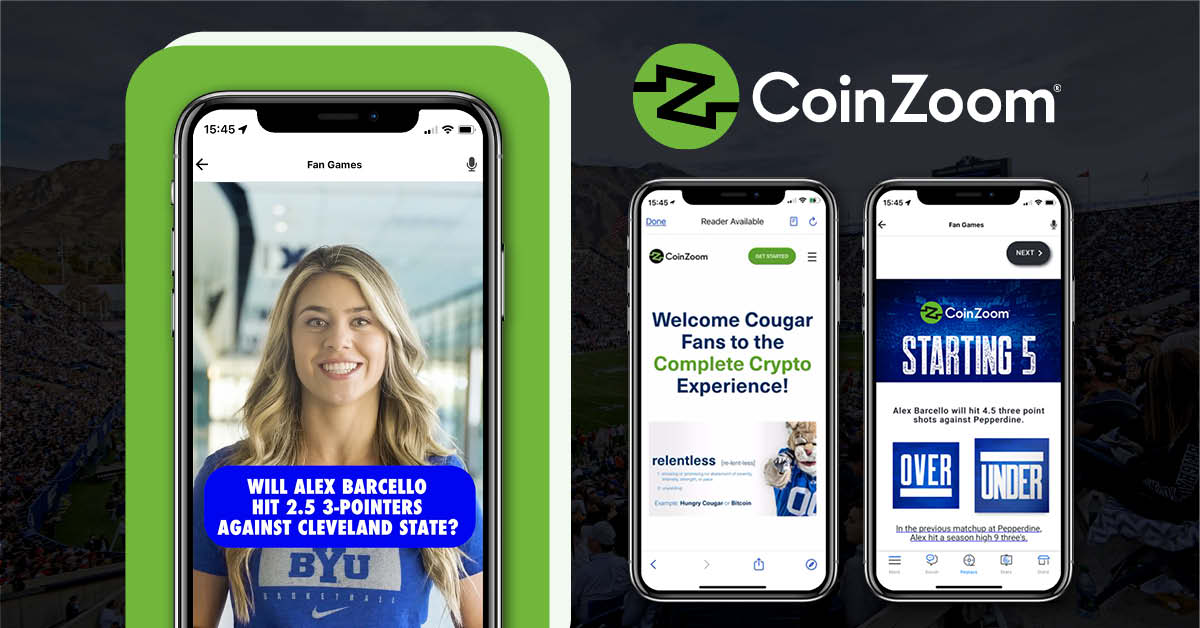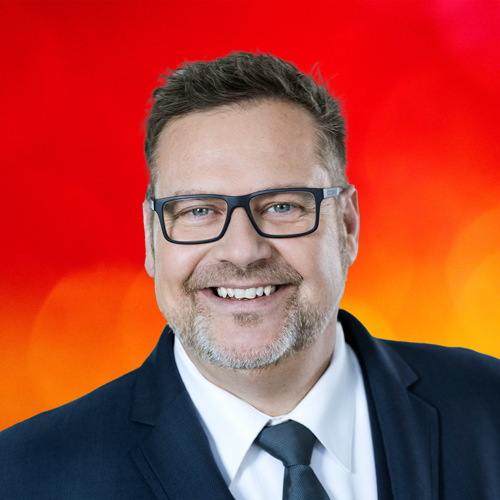 Creating opportunities to engage eyeballs
Brigham Young University lives and breathes in Provo, Utah. You could say the campus is the heartbeat of the city of 116,000 people.
April 6, 2022 | Greg Mackling, on-air personality

Cougars athletics is the pulse of the campus. Known primarily for its football program, the football Cougars play at LaVell Edwards Stadium. Capacity: 63,470. Just over half Provo's population. Filling the stadium and J. Willard Marriott Center with fans, students, and alumnus alike is a common occurrence. Sean Firmage, Account Executive with BYU Athletics corporate sponsorships, tells FANNEX that creating a memorable experience for their supporters is job number one.
"It is just about representing BYU as best as we can. Especially because many of the people who come to games do so only once or twice a year, so we want to make sure it's an excellent experience. One that's engaging, and part of it is just trying to keep up with how the industry and fan expectations are changing."
Big League Feel
In a state with over 3.2 million people, one major professional sports franchise, and host to the 2002 Winter Olympic Games, BYU sports are a big deal. No visit to a BYU sporting event is complete without downloading the BYU Gameday App. "People get used to having amenities and engagement like that, so we want to come as close to a professional team experience as possible. It also allows us to promote some of our partners," said Mr. Firmage.
Building partnerships
Mr. Firmage continues, "Our corporate partner team created the app. The BYU store is one of our partners, and we want to make it easier for people to buy merchandise. BYU dining services is a key partner. Again, we want to make it easier for people to buy food and avoid a line-up if that's why they're not buying concessions."
The app also provides practical information such as maps of the arena or stadium, the game program, a link to the radio broadcast, stats, social media links, replays and live stats. There is also a light show component, trivia games and other interactive opportunities. The Fannex gamification component gives the fan another reason to download the app by creating buzz around the live interactive gaming component. After all, you can't win if you don't download the app to play. "In addition to the Fannex experience piece, it gives us extra inventory to sell for our corporate partners. So that little extra piece of engagement you can't get any other way, but there are additional benefits beyond the partnerships," mentioned Mr. Firmage.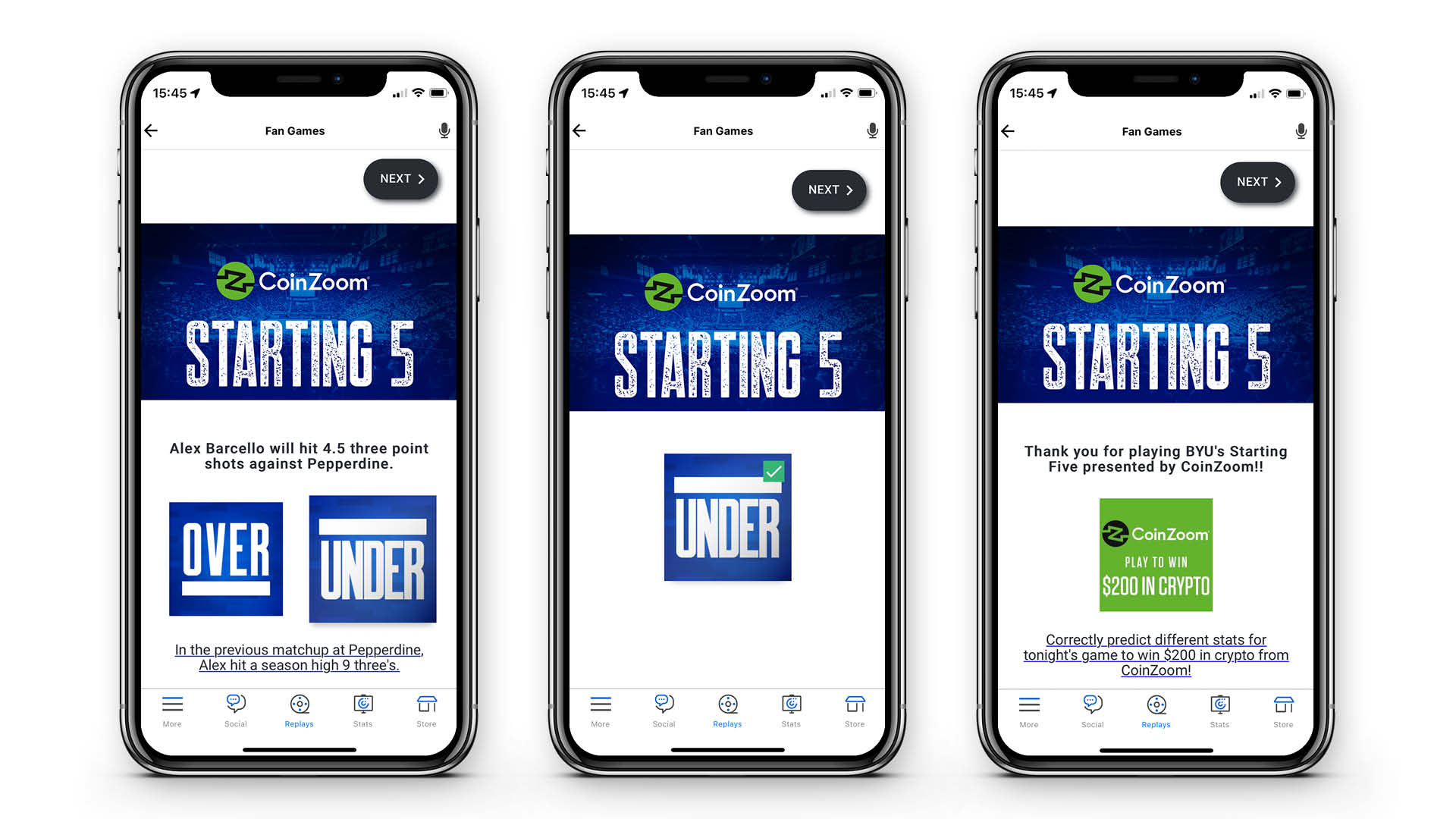 Caption: Game play, reveal, and sponsor promotion
In the palm of your hand
So much of our communication and interaction is conducted with our handheld devices. They have become the conduit to our friends, associates, business connections, and, yes… our sports teams. We wear the hats on our heads, the jerseys on our backs, display the flags on our vehicles and homes. We carry the virtual keys to our fandom in our hands, even when we should be watching the game at home or in-venue.
Eye on the prize
Once again, Sean Firmage. "I think the hardest thing about sponsoring a sporting event is the visual saturation. We have signage flashing all throughout the game. You have promotions and prizes and there are so many ways for people to miss what you're doing. For example, if you're doing a promotion during a timeout in a game… maybe that's when the fans go to grab some concessions or run to the restroom. Either way, you're just going to miss a lot of eyeballs on the static promotion.
Firmage paints a vivid picture of the downside of in-venue static or even digital signage. "If there's a sign on the other side of the venue, how much am I paying attention? The app brings it up close and personal. Also, having it on your phone makes it a lot easier to 'see' the sponsor and potentially interact with the brand in an active and engaging manner."
Winner, Winner, Chicken Dinner
Who doesn't want to win a prize? T-Shirts from a cannon? Terrific. Tickets to an upcoming event? Sweet. How about BITCOIN®? "For our predictive scoring game, we called it the 'Starting Five' for men's basketball season; we had CoinZoom®, a cryptocurrency exchange app, as the sponsor. Every prize they're giving away is in Bitcoin. If the fan doesn't know a lot about cryptocurrency or if they don't know anything about CoinZoom, we are betting the fan will look them up regardless.
These digital marketing tools give us a unique way to interact with fans and create more vital touchpoints. So even though not as many people engage with it as a promotion during a time out, the type of engagement is more valuable and active. It was very consistent throughout the season, and perhaps best of all, it's measurable." So that's a terrific place for us to sign off: measurables.
Businesses everywhere want to measure the reach of their advertising investment. Digital marketing with a gamification component is a terrific tool for those selling sponsorship opportunities and the quest to engage our eyeballs.