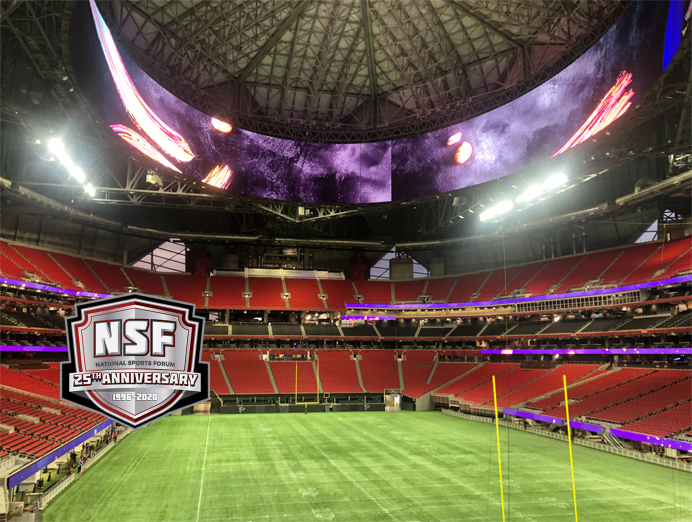 NSF – Atlanta, GA     February 9-11, 2020
It was great to be back at National Sports Forum (NSF) in Atlanta, GA this month! I've been fortunate to attend several conferences over the past two years and NSF makes a nice effort to create a sense of community by including executives, vendors and grad students in almost all aspects of programming and tradition.
Session highlights included Maple Leaf Sports & Entertainment's (MLSE) Aalum Jaffer presenting on MLSE's reengineered approach to attracting brand sponsorships in the consumer packaged goods (CPG) category, and Anheuser-Busch's Nick Kelly discussing the sports sponsorship landscape from his position at one of the biggest players in the industry. 
This year we also had the opportunity to participate in the Marketing and Fan Engagement Tech Tank, a session highlighting innovative technologies helping sports teams with fan engagement and enhanced revenue opportunities. We took this chance to share our approach to mobile fan engagement, and how understanding our stakeholders has guided us in developing the next iteration of the Fannex platform:
Teams have always expected full creative control over production elements and sponsorship inventory. Now that fans' mobile devices have become another channel for Fan Engagement and Partnerships Activation, we believe it's time for mobile to catch-up with that control and freedom.
Watch our Tech Tank presentation to learn more on our next generation platform, and I encourage you to reach out to me directly to share your gamification concepts and further discuss the tools we have to use on our platform.
Eric MacLise
Business Development Manager
eric.maclise@fannexlive.com | 204.272.6010 Ext. 106
Eric MacLise has been audience building with Fannex since 2015. He is passionate about helping brands create meaningful live event experiences.