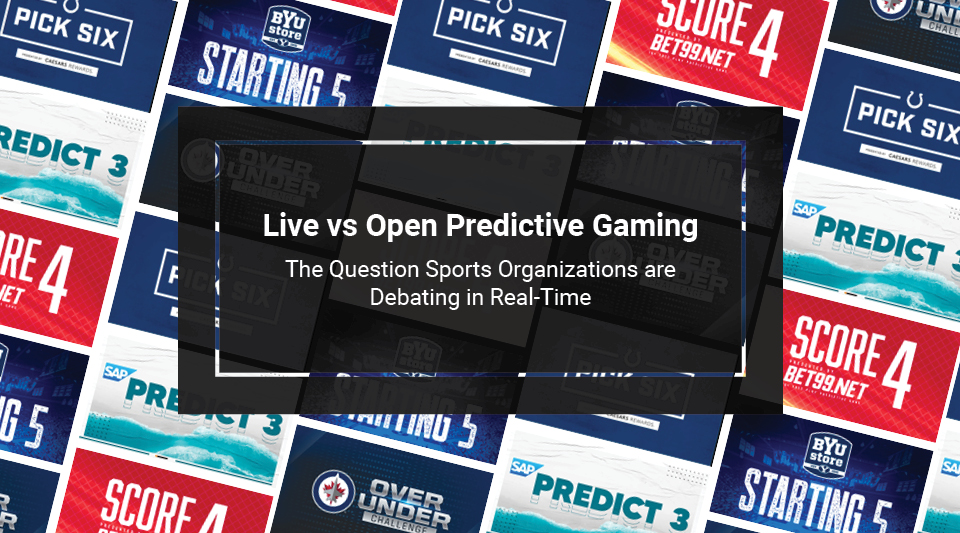 Live vs. Open Predictive Gaming
The question sports organizations are debating in real-time.
March 9, 2021 | John McCauley & Eric MacLise
"Every click you make someone go through, you lose half your audience."
Second screen experiences, predictive gaming, contests and promotions are all words you hear being bounced around the sports business landscape with increased frequency as the regulations surrounding sports betting are slowly being taken away.

Having said that, second screen experiences have been around for a long time; normally in conjunction with alternative camera angle options for a live event with chat or social functionality and a promotion of some sort. Those experiments have been occurring at the team, league and broadcaster level with varying success, but the bottom line discovered over the last 10 years is the proliferation of media platforms used to watch sports live.
The other fan behaviour learned over the last few years is the fact that while watching a live event people have a phone in their hand. That is what excites the leagues, teams, broadcasters and gambling houses the most; through the mobile device, it is their belief that the role of betting will be paramount to the fan experience going forward.
There is no doubt there will be an increased amount of betting as it becomes easier for that segment of your fanbase, but it will also become increasingly important for sports brands to try and convert more casual fans into betting participants to truly increase revenues beyond the typical sponsorship that exists today.
That is where the debate begins – how do you move a casual fan from someone accustomed to watching a game and chatting with friends on social to someone who is engaged enough to make a bet.
Free-to-play prediction gaming is a concept that sports teams are all taking different approaches to as a precursor to the legalization of sports gambling. Live prediction refers to answering questions in real-time coinciding with what is happening in the event i.e. "Will James Harden score on the next Nets possession?" Open prediction, on the other hand, is a pre-set group of questions that are often active the day or week leading up to an event, and can be answered by fans long before, or two seconds before the event takes place (see Pick Six).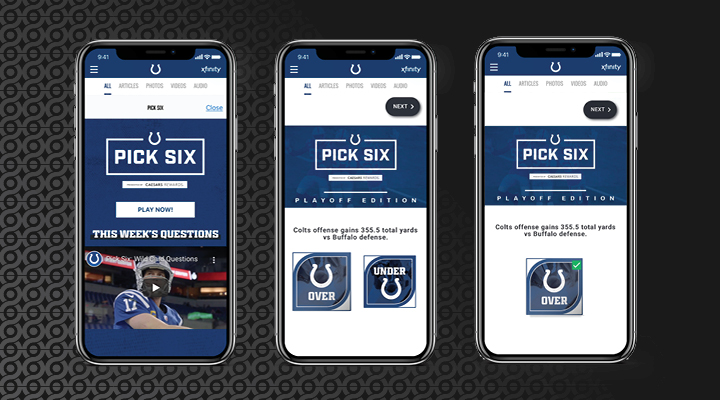 There is a time and place for both, but success will be varied based on fundamentals we understand about fan engagement and digital user-journeys. The more you make an individual work to participate, the more it will ultimately limit your players. The old digital adage is "every click you make someone go through, you lose half your audience." New predictive questions every 15 minutes can be appealing to the hyper-fan, but may begin to feel demanding for the casual viewer.
As a result, strategizing concepts should begin with understanding your audience goals. If your brand partner is interested in a lead generation campaign, open prediction tends to cast a wider-net. Every sports organization has different objectives and it is paramount today for your technology partners to understand these objectives so that experiences can be created to accomplish them.
As interactivity and prediction become a significant driver of fan engagement, sponsorship, and cultivating sports betting interest, understanding your audience goals and finding the right technology partner to be part of this journey is always step one.
Written by: John McCauley & Eric MacLise

Published: 9-March-2021