Leveraging digital enhancements to emotionally connect with a larger segment of fans
June 2020 | Eric MacLise
I am a few years out of business school, and one theorem that seemed to get brought up in every class was Maslow's Hierarchy of Needs. As a refresher, Maslow basically said (and I am paraphrasing), if we do not have necessities like food, water and shelter, we are not going to be motivated to participate in art or nature hikes. There are layers to our needs, but once our physiological needs are met, it is these additional aspects or enhancements (like paint nights, or a walk in the woods) that make our lives more enjoyable.
Our Creative Director, Darryl van Herksen (_DVH), wisely drew (literally) a comparison to sports teams' mobile app ecosystem.
In the past, teams were commonly taking content that was on their web and social channels, and duplicating it within their mobile product. That is enough for some die-hard fans, and it is a great foundation; it meets the functional requirements for an app. But for many fans and event patrons, interactive games provide a more compelling reason to download and use a team app.
Take the AHL's Manitoba Moose for example: when the Moose starting running interactive fan games within their mobile app over a two week stretch of home events, the Moose app rose from #356 to #16 in the App Store rankings. With consistent execution, the app eventually reached #7 in the Canadian Sports Category. Here we have a minor-league hockey team edging-out nationalized apps like TSN, and major league professional sports teams. We've drawn similar insights from year-over-year comparisons with the NHL's Winnipeg Jets (Team Insights, 2019) and AHL's Milwaukee Admirals (App Annie, 2020).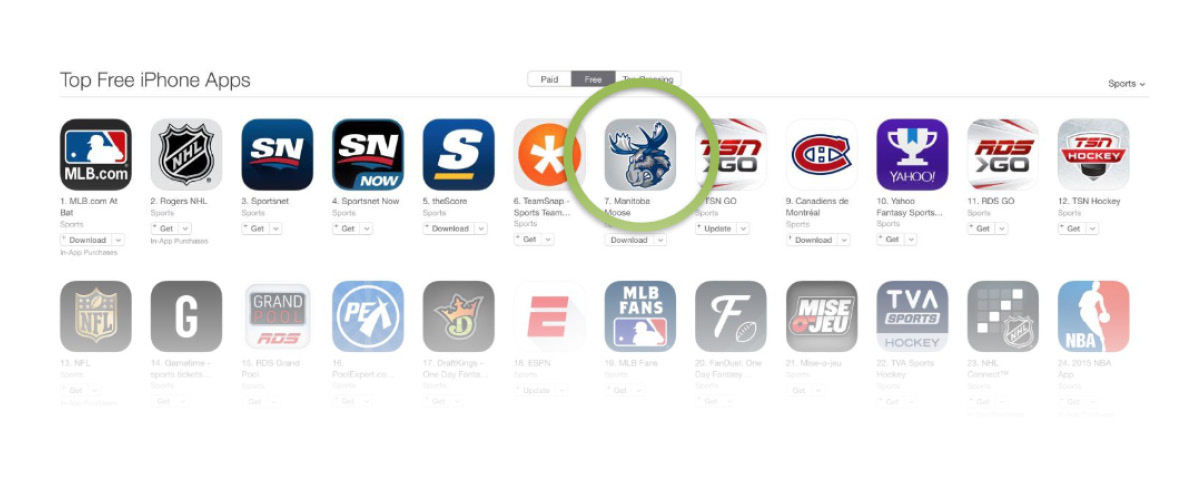 Once a teams' functional app requirements are met (scores, standings, ticketing), it is digital activations like Fannex interactive games, DASH auctions, and AR experiences that make your mobile product a more fun place to be. Former MLSE director of digital, John McCauley, likes to refer to Fannex as, "the bait to get fans to download your app".
80% of our clients use the Fannex platform as an integration, or another layer, to their team's existing app to increase the success of their mobile investment. We are working with a few teams spending several hundred thousand dollars on their mobile ecosystem, and they are using Fannex to make sure fans are living there.
While we are not expecting the Mobile Hierarchy of Needs to be featured in future "Introductory to Marketing" textbooks, we look forward to continue using our platform to increase mobile activity and interact with live audiences.
Eric MacLise has been audience building with Fannex since 2015. He is passionate about helping clients create meaningful live event experiences.